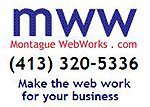 Website (c)1999-2022, Montague WebWorks. MontagueMA.net has been online since October 1999.
For more information contact Mik
Community Corkboard software 1999-(c)2023 Montague WebWorks

Montague Cable Advisory Committee
mik
- Fri, Nov 11, 2005, 12:00 A
MCAC Minutes 11/8/05
Minutes from the Montague Cable Advisory Committee (MCAC) Meeting on 11/8/05
Present: John Reynolds, Mike Naughton, Chris Sawyer-Lauçanno, Sam Gilford
Absent: Roy Rosenblatt
In audience: Joseph Gochinski and Carrie Healy (GCTV Board Members)
Michael Muller and Michael Farrick (MCCI Board members)
Chair, John Reynolds, called the meeting to order at 7:05 p.m.
Chris distributed to the members copies of MCCI's certifications of tax compliance and non-collusion that he had forgotten to bring to the last meeting.
John asked audience members present to hold questions until after the evaluation session.
Mike Naughton first suggested that the MCAC consider GCTV's objections to providing additional information. He cited, in particular, the last two paragraphs in GCTV's letter containing follow-up information:
'Greenfield Community Television strongly objects to the Montague Cable Advisory Committee's decision to request and accept materials required by the original RFP after the stated closing date. We feel that this is a violation of the spirit, if not the letter, of the original RFP proposal, as approved by the Montague Board of Selectmen.
In accepting substantial addenda from MCCI, GCTV feels that the Cable Advisory Committee has failed to follow it's [sic] own rules of procedure as outline [sic] in the RFP document, and has therefore tainted this otherwise fair and open process.'
Sammy felt that GCTV's objections regarding their having received the letter asking for information late was also important. Chris read the entire letter.
Mike noted that while GCTV claimed not to have received the email asking for additional information, other members, copied on the document had received the information, and that GCTV had waited two days to inform the CAC that they did not have the letter. For him, the major issue was GCTV's objections quoted above.
Chris agreed that this was an interesting point, and noted that in his previous experience with RFPs, the closing date was the closing date. At the same time, he stressed that the goal of the CAC was not to annoy either of the proposers, nor to subvert the process. Instead, he felt the CAC was providing an additional opportunity to both parties to clarify their proposals.
John argued that the request may have been contrary to the letter of the RFP but that the spirit in which additional material was sought was consistent with fairness and openness.
Sammy said he had, himself, brought additional information for the committee to consider, and was inclined to agree with John.
Some further discussion along these lines ensued. Mike then made a motion to bring the question to a vote.
Motion: The CAC should not consider in their proposal evaluation materials received after October 28, 2005.
Vote: Mike, Chris, aye
John, Sammy , no
Motion failed.
The next issue was posed by Sammy who argued that the CAC should extend by three weeks its date for making a decision in order for him to gather more information against MCCI. He specifically wanted to get an answer from the MASS Charities Division regarding whether The Montague Reporter was a legitimate enterprise for a non-profit corporation as they raised revenue from advertising.
Mike noted that he personally didn't see why this was an issue. GCTV, he noted, also had underwriting, as did PBS and NPR, etc. Chris agreed, but suggested that Sammy pursue this independently if he wanted.
Mike also objected to the extension, as did Chris. John felt that the CAC should make a decision at the next meeting. He brought up the issue of Town Meeting being asked to vote on a contract on Dec. 7th.
Mike made a motion that Friday, November 11th be the end date for receiving an additional information, whether from the proposers or from CAC members.
Vote: unanimously in favor
Sammy next presented his list of questions to MCCI. (Appendix A)
His first issue was that of Board membership. He distributed copies of documents obtained from the state showing MCCI's Board Membership from 2000-2005. He pointed to the name Catherine King on the 2000 state document and noted that she was not listed by MCCI in their proposal. Chris pointed out that MCCI only included documentation of their board membership since 2001 and that the state records squared with the addendum to the proposal. Sammy next stated that in the case of Michael Saari, he was not even a Montague resident for a portion of his time. Mike asked what was wrong with that. The Committee decided that this area was settled and that no further questions of MCCI need be asked.
Sammy next brought up the issue of MCCI's claim of having 'a history of cooperation with local access television stations in the area." Sammy challenged this assertion, saying that MCCI had not cooperated with GCTV. Mike, John and Chris all felt this was a legitimate question and the committee agreed to ask MCCI to provide an answer by Friday, Nov. 11th to the following question: 'Provide more detail about MCCI's history of cooperation with other PEG Access stations.'
It was also decided to ask GCTV, in the interest of fairness, to provide any other information that they though might be helpful to the CAC (See Appendix C)
Sammy's next issue was related to a new law/rule that governed the high school's employment of outside personnel might affect MCCI's proposed plan to perform work at the high school. Chris said he'd never heard about this but that it was worthy of consideration as it would clearly affect both MCCI and GCTV. Mike and John agreed. John asked Sammy to obtain more information for the committee by Friday, November 11th.
As many of Sammy's other questions seemed to have been already answered by MCCI either in the proposal or in their addendum, the CAC did not feel any further information was needed from MCCI.
Near the conclusion of the meeting Mike Naughton, who has been writing a narrative of the evaluations for the BOS stated that he had finally come to believe that in the end the decision came down to one's personal opinion about what one wanted in a cable provider. He noted that both proposers had submitted strong proposals, and reminded the committee that the BOS would make the final decision.
John stated that he felt that saying this was making a mockery out of the whole evaluation process. Mike said he didn't feel that way. Chris once again argued to move forward to a vote to send to the BOS.
At the end of the meeting, Mik Muller presented a letter to John asking that it be read into the record. John declined to read it aloud but did share it with the CAC members. Chris asked if this now constituted a public document that should be put into the minutes. Mike and John both agreed that it did. Sammy did not take a position. The letter is attached as Appendix B.
The meeting adjourned at 9:22 p.m.
Respectfully submitted,
Christopher Sawyer-Laucanno
Recording Secretary
APPENDIX A Sammy's Questions
For the CAC,
I think the most concern I have with MCCI's proposal is with their listing of board members and the years they have served. As well as, their insurance certificates and tax returns. Especially in the light of their relationship to this project of thiers called the Montague reporter. I wish to know more about the details about this newspaper that has an annual budget of $60,000 60% of which the MCCI proposal is saying is garnered from advertising therefore making it for the past three years a profit organization.
I would like to pursue a question to the Charities division as to how ethical, as well as, legal this may be for a non profit group?
As far as the board memberships are concerned.For instance Mike Saari is listed as four years I know for a fact personally that Mr. Saari was in California and out of Montague for at least 2 of these years. Mr. Muller and Mr Langknecht are listed as four and a half years. But according to the tax returns documents it is only a bit different? Also the time that Mr. DeGuise first took over for Mr. Singleton Are there any records or dates to this change?
Recently october 14 05 there is a documentation of the change of board members submitted to the --------- Why was this filed so late and right before this proposal was given? Mr. Muller continued to list him as a board member on the web site he hosts. Now in this latest proposal he states that he is now "Back" from his other involvments elsewhere and will join the board again.
A)I want to know exact dates?
This all having to do with the status of MCCI as a bonafide non profit organization following all the regulations set forth by the attny general and the Charities division. If there are any questions that will be raised from this are.
I will move to have MCCI disqualified from this RFP bidding process. I have also had access now to the pubic tax returns of MCCI there are dates and listings there of other board members that I know for a fact were not members of their board and some of the address's that are listed are very inaccurate and some that are actually non existant?
1) Can we please try and clear this up?
2) Why did we as a committee not received the proper signitures on the 2nd page of thier proposal where as GCTV's proposal had it theref for all parties in nine copies to see?
3)And why did they not include the simple RFP copies that were to be included as well as the other certificates or copies there of as well?
4) To the President of MCCI Mr Muller. Have you ever gotten in touch with the Charities division yourself in order to clearify this rlationship with MCCI and their for profit project the Montague reporter? If so could you please provide copies to this committe of any and all correpondance with this agency.
I didn't realise that we were to recieve less of the requirments because this was The town administrators responsibility? I was rather disturbed by this.
1) Concern: MCCI's proposal (on page 28) asserts that 'MCCI has a history of cooperation with local access television stations in the area." However, there is a concern about what appears to be a historical failure or refusal of MCCI members to cooperate with one of the largest and most respected local station in the areaGCTV. Accordingly, please address the following related questions.
Question A: Specifically describe MCCI's history of cooperation with GCTV. Your answer should include, though not be limited to, a detailed history of the following:
· Cooperation of MCCI board members with GCTV's board, executive director, and staff
· Participation and volunteerism of MCCI board members to assist GCTV in filming Montague BOS meetings.
· Efforts to encourage cooperation between Brick House personnel and GCTV.
· Efforts to ensure that video productions made with GCTV facilities contain credits reflecting GCTV's contribution.
· Use of the studios in Turners Falls by MCCI board members
· Use of MCCI's newspaper to promote GCTV to its readers. (e.g., printing schedule of Montague shows on channel 17; reporting positive aspects of GCTV and encouraging local involvement.
· Use of website (operated by MCCI's president) to promote GCTV to the local online community (e.g., posting GCTV announcements, advertisements, etc.)
· Use of GCTV training by MCCI board members
Question B: Is MCCI's proposal asserting that Brick House programs were made in MCCI's facilities?
Question C: Does the Brick House have a production contract with GCTV's Crocker Studios?
2) Concern: MCCI's proposed projected budget (on page 11) sets forth estimates that are not fully substantiated. Accordingly, please address the following related questions.
Question A: For each item listed below, specifically describe: i) how you estimated these figures, (ii) what sources did you use to arrive at these figures, (iii) from what sources you expect to receive these funds, (iv) what experience and success you have had raising such funds:
· Contribution Income
· Grants
· Administration
· Program Expenses
· Building and Property
3) Concern: MCCI's proposed list of board members sets forth member names and their years of service, which appear inconsistent with MCCI's public tax returns, and the actual time periods that members were present in Montague. Accordingly, please address the following related questions.
Question A: For each proposed board member, state the actual dates of active membership on MCCI's board.
Question B: To the extent that MCCI's public tax returns are inaccurate and/or inconsistent with actual board membership and fiduciaries, clarify the inaccuracies/inconsistencies in member/fiduciary names, addresses, and dates.
4) Concern: Further information is necessary to assess MCCI's stability and status as a legally-compliant not-for-profit organization over the last three years. Accordingly, please address the following related questions, focusing on the past three years.
Question A: Identify the location of MCCI.
Question B: Specifically describe the relationship, interaction, and agreements existing between MCCI and their project the Montague reporter.
Question C: Specifically set forth a statement of the Montague Reporter's annual budget and profits, and clarify how this relates to MCCI as a non-profit organization.
Question D: Itemize the expenses, including rent, incurred by the Montague Reporter. Explain how these expenses are paid to or by MCCI.
Question E: Confirm whether any MCCI board member will receive any compensation for MCCI-related products or services.
Question F: Explain the reason for and nature of MCCI's recertification on October 14, 2005.
Question G: Describe MCCI's health and liability insurance coverage.
5) Concern: A new law/rule governing the high school's employment of outside personnel may affect MCCI's proposed plan to perform work at the high school. Accordingly, please address the following related questions:
Question A: What impact, if any, do such rules have on MCCI's proposed plan to work with the high school, and how does MCCI intend to work within such legal limitations?
6) Concern: MCCI's proposed hours of operation, and use of volunteers, appears inadequate to ensure its commitment to filming and televising BOS and other municipal meetings. Accordingly, please address the following related questions:
Question A: Specifically explain how MCCI will ensure full coverage of municipal meetings, given its plans to remain closed on Monday and to use limited staff.
7) Concern: Further information and documentation is necessary to assess MCCI's inventory of equipment and editing facilities. Accordingly, please address the following related questions:
Question A: Specifically identify the purchase date and price of each item of equipment listed in MCCI's proposal.
Question B: Specifically identify the present location of each item of equipment listed in MCCI's proposal. If any listed item is located at Crocker Studios, explain your method for determining that it belongs to Montague, rather than GCTV.
Question C: Specifically account for and provide receipts for each piece of Montague equipment sold in the tag sale when MCCI lost the assignment four years ago.
APPENDIX B Letter from Michael Muller to the CAC
Letter to the Montague Cable Advisory Committee (MCAC) and Montague Board of Selectmen
In attending the MCAC meeting of Tuesday, November 1st, MCCI Board president Michael Muller and Board Member Michael Farrick witnessed a display of bias so extreme against MCCI and our proposal by committee member Sam Gilford, that it may contradict the function of the MCAC.
Mr. Gilford openly stated at one point during the evaluation period of the meeting that he would give MCCI only 'Non Advantageous' ratings for the remainder of the criteria voting because what MCCI proposed was 'just words on paper.'
By definition, a proposal is just that: words on paper, and the evaluation criteria clearly states that votes are to be determined by the content of the proposal that speaks to the criteria being voted on.
Mr. Gilford's comment makes it appear that he made his decision regarding the criteria without even consulting our proposal.
Regards,
Michael Muller, president
Montague Community cable, Inc.
24 Third Street
Turners Falls, MA 01376
Appendix C: Letter to GCTV, hand delivered on Wednesday, Nov. 9, at 9:30 a.m. to Crocker Studios, and emailed to Mr. Gochinski
MONTAGUE CABLE ADVISORY COMMITTEE
November 9, 2005
Mr. Joseph Gochinski
President, GCTV Board of Directors
C/0 Crocker Studios
Turners Falls, MA 01376
Dear Mr. Gochinski,
I am writing on behalf of the Montague Cable Advisory Committee to invite you to
supply any additional information regarding the questions the MCAC posed to GCTV
last week. We realize that you were rushed to answer these questions due to the
delay in receiving the communication. Because of this we feel it only fair to
allow you until Friday, November 11th to submit any additional information. You may send
these electronically to the chair, John Reynolds
<
johnlynnreynolds@verizon.net
> or if you prefer, you could deliver these in
hard copy to the Town Administrator on Monday morning (as Friday is a holiday).
He will then pass them on to us. We will be meeting next Tuesday, November 15
to continue our discussion and evaluation of the proposals.
For the Committee,
Christopher Sawyer-Lauçanno
Recording Secretary, MCAC