Great Falls Discovery Center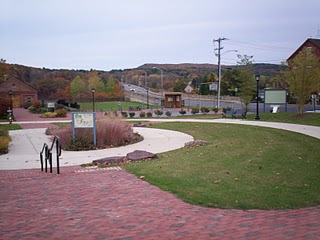 Great Falls Discovery Center
2 Avenue A,
Turners Falls, MA 01376
413.863.3221
www.greatfallsdiscoverycenter.org

Visit the Great Falls Discovery Center and learn about the Connecticut River Watershed's rich natural, cultural and industrial history.
The Center is fully accessible and is housed within a complex of old mill buildings and includes open habitat exhibits, fish tanks, and a multipurpose program room referred to as the "Great Hall".
Exhibits highlight various habitats found in the watershed, timelines put perspective on todays view of the threats to habitats and what we can do to safeguard them.
The Friends of the Great Falls Disocvery Center Museum Store is filled with nature items, educational merchandise, and local crafters and artsist products from beeswax candles to maple syrup, and handpainted glassware, books from local authors and greeting cards. You can now find events posted on Face-Book under "Friends of the Great Falls Discovery Center".
The four-acre park that surrounds The Center has butterfly gardens, native plantings views of the canal and river as well as safe play areas. This park is linked to a bike trail that runs from Turners Falls to Deerfield, a historical walking tour through downtown Turners Falls, and the watchable wildlife areas of Barton's cove and along the power canal.
Admission to the Great Falls Discovery Center is free as is the majority of programs for all ages.
The Center hosts some fee based programs and any fees or registration requirements are announced on our events calendar.
Hours The Center is open Friday & Saturday 10am - 4pm during the winter. May-October hours are open daily from 10am -4pm and until 8:00 pm on Friday and Saturday evenings fron June through August.
Directions
From points North and South
Take Interstate 91, take exit 27 onto Route 2 East.
From points West
Take Route 2 East past route 91 to the traffic lights in Gill.
From points East
Take Route 2 West to Gill.
At the Route 2 lights in Gill, go South toward Turners Falls and Deerfield over the river on Avenue A. You have arrived!
Parking
Handicap accessible parking is immediately after the bridge on the right.
The main parking lot is just around the corner ( 2nd Street), take the next right to enter the lot.