Montague-Palooza: Press Releases
* * * For Immediate Release * * *
Date: September 6, 2006
Contact: Michael Muller, president
Muller Technologies
(413) 863-0030
24 3rd Street, Turners Falls, MA 01351
admin@MontagueMA.net
Launch Party for MontagueMA.net Website
Michael Muller, the owner/operator of the MontagueMA.net website, is throwing a Launch Party at the Montague Grange Hall, Thursday, September 14, at 7:00 pm, to demonstrate the innovative upgrades to the website and to invite new and existing users to learn more about this community resource. MontagueMA.net is the longest-running community website for Montague and surrounding towns.
The Launch Party will include a screen-projected demonstration of the website's user and admin features while fielding questions (and suggestions) from the audience. Light refreshments will be served.
"This upgrade has been a long time coming and my partners and I are very excited," Muller said. "I've wanted to do this for about a year but constant new code development kept pushing the upgrade date back. The new software is very cool and I believe both novice and experienced users will be able to get their information online easily and reach a broad audience." Muller hopes MontagueMA.net will be the place to go online in Montague for events going on in Montague.
The MontagueMA.net website was built in October 1999 to provide a place for local residents to post news, events and buy/sell messages in Montague. Since then, the website has undergone two major upgrades, has grown to almost 700 members and over 11,000 messages have been posted. The site currently runs NetSite Server v3.2, a product that Muller created and markets to the athletics industry under Studio 3100 LLC with partners in Northampton, MA; Nashua, NH; and Palm Beach Gardens, FL. NetSite Server is now used by many area businesses, including the Montague Bookmill, Northstar Teen Center, and the Springfield JCC. Visit www.NetSiteServer.com for more information.
For directions to the Montague Grange hall visit the MontagueMA.net website.
# # #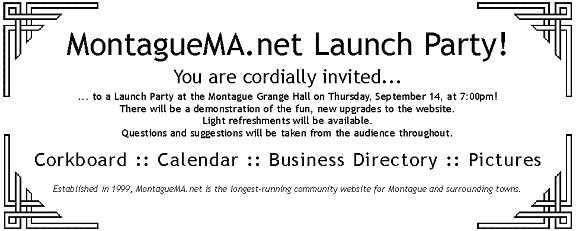 Posted by mik - September 06, 2006